Asphalt Shingle Roofing and Reroofing
in Cuyahoga Falls
Asphalt Shingle Roofing and Reroofing
 We pride ourselves in being an honest company and doing things the right way! We truly believe we are the right company for anybody that needs a residential roof replaced, not because we are perfect but if we occasionally make a mistake we will fix the mistake immediately. If we sell a roof, the customer is getting a quality roof with the peace of mind that our company is local and we will be there to help with any future needs that he has. Our experience in the asphalt shingle roofing business spans 22 years of difficult projects. In that time, we have grown to meet each project and approach them in a way that will get that specific problem fixed! Every roof we walk away from is one that we would feel comfortable living under.
Our business up to now has grown solely by word-of-mouth. That should speak to the quality of our work by itself since we generally work on 300 – 350 roofs per year. Our work owes a lot of credit to our employees as we have been very fortunate in retaining our employees for the long term and we have 3 job supervisors with 10 or more years of experience! Click the button below this picture to take advantage of our expertise.
We provide free estimates along with attic inspections that we perform as we give estimates. If we are measuring a roof for a customer and it seems like he has a lot of bad wood and poor ventilation, then we will inspect the attic to make sure they don't have mold or ventilation issues and yes that is all included in the free estimate!
When we start the job, the first people to show up will be our crew. All of our dumpsters and shingle trucks will show up after we are there and we will leave the same day. Same day job completion! We cover all shrubbery with tarps to help protect it. We remove all existing shingles and underlayment down to the roof decking and will replace all questionable decking and renail all loose decking. We will install all required underlayments and replace all drip edges. We will install a limited lifetime dimensional shingle of your preference. We will install ridge vents to all peak areas from end to end. When we clean up at the end of the job our goal is to have everything look like it did before we showed up except for the new roof.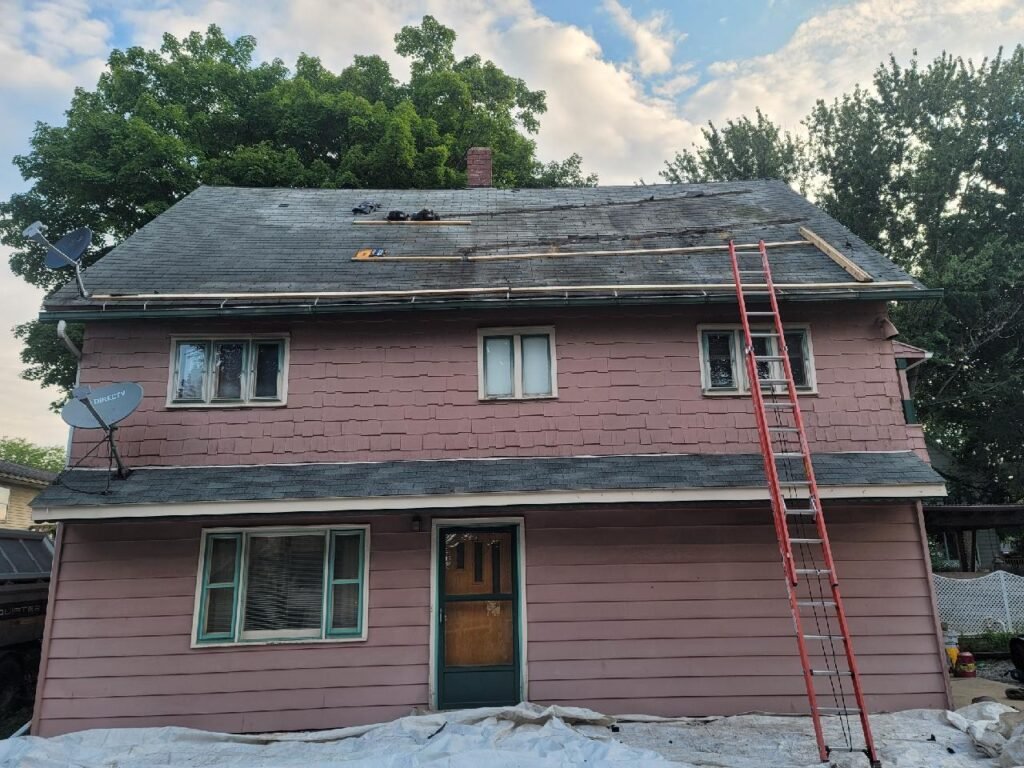 Contact Us Today To Get Your Roof Project Started!