What Our Clients Say About Us
…tell you whether we deserve your business, prove that we are who we say we are, and simply display our client's opinion of us.
Awesome Roof installation
If I could give more than five stars, I would. Great communication from start to finish watching the team do the roof was magical. The team was awesome friendly the cleanup was amazing protection of the shrubbery was amazing if anybody would want to come and see my roof. They're welcome to do it. I'm not proud of it and proud of the job that J and J roofing did. I even put them on my TikTok.
Jill Bell
Reliable and professional
I have had them do 5-10 roofs for me over the years and never have I had any issues, before during, or after the job.
I only Use J and J for ALL my roofing needs. As a rehabber it's critical I pay for the job to be done right and on time. I always get both and more from j and j. They don't cut corners. They are professional and you don't have to worry about putting your hard-earned money in the hands of a stranger. These guys always deliver when I need them to and go out of their way to accommodate me as the customer. As long as J and J are doing roofs I will not have anyone else handle my roofing needs! Thank you.
Cole Mitchell
Wonderful company!
I was a bit overwhelmed when looking around for a company to replace my roof as I was getting pressured by some companies and made to feel like a dumb woman by others. A friend recommended J and J and said he was very happy with his whole experience. And here's how it went for me… From the first communication I had with J and J, I immediately felt more relaxed about the whole experience. They were extremely knowledgeable and never once made me feel pressured. Best of all, they had the BEST PRICE! They let me take the reigns and they worked with me to make sure I got just what I wanted.
Scheduling a date was easy and the whole tear-off and replacement was done in just hours. All of the workers were very respectful and they did a beautiful job. I can't speak highly enough about what a great experience I had with J&J Roofing.
Jessica Lutkus
J & J Roofing
wanted to let you how pleased we are with our new roof, our roof was not even 3 yrs. old but do to hail damage we needed to replace it, we were treated so well we would refer your company to anyone in need of a new roof.
Wayne Miller
J&J. Roofing. #. 1
We had 2 problems with our roof that other roof contractors told us not to worry about. DAAAH. !!! J&J. Took 1. look and knew exactly what the problem was and how to repair it. The other 2 contractors did not have a clue and told me not to worry about it. J&J is the best.!!!
Terry. Starcher
Exceptional Work
I just had a new roof put on our home & garage and had an amazing experience with J&J! The team stayed on schedule, performed exceptional work, and went above and beyond with
their customer service. I highly recommend using J&J for all of
your roofing needs.
Kate Mitchell
New Roof
I had J&J put a new shingles roof on one of our houses. Very pleased with their workmanship and finish product. I highly recommend them.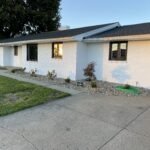 Kent Miller
Great group of guys and
Great group of guys and an excellent job on my new roof!
Jason Kurtz
Great company!
We had our roof done in January of 2021. We had several estimates and JandJ was the best quote. They were highly recommended from some friends and we couldn't be happier with the final result. I'd say you would be hard-pressed to find any other company as reasonably priced for the quality of work you get from JandJ. Give them a shot at a quote, you won't be disappointed.
Shelly O'Brien
Very Trustworthy
He is one of our sub-contractors and very trustworthy!
Jason X.
Happy in Brewster
They did a wonderful job. Fast and quality work. Cleaned up yard afterwards. I would definitely use them again.
Dale Matter
Great Company
Very efficient and great workers. They got our roof done in half a day and cleaned up everything very well. Very professional and our roof looks great!
Sally and Duane Whetsell
My brother in law had
My brother-in-law had inspected a few jobs that this company had done as he is an inspector for the city of Fairlawn and he had no qualms about them replacing his roof. That's all I needed to know when it was my turn for a new roof. The quality of the materials and craftsmanship, in my opinion, will stand the test of time. Great job fellas!!! Will recommend it with confidence!
Scott Schaffter
Top-Notch Professional
Junior is a top-notch professional, and he is priced extremely well. 5 guys to do a roof. In and out in half a day. My go-to guy for all roofs issues for my house and rentals.
Paul G.
Do what you say you will do!
I have known and have been using J&J for 15 years. They have never given me even a moment's concern! Their work is fast, professional, and on schedule. It is hard to find people who will do what they say they will do… J&J will do just that, what they say they will do! Excellent service and workmanship! I would highly recommend them and do it often!
Robert Ball
The Best by far
Called them towards the end of the Covid pandemic, left a message, and returned my call within 24 hours. They was very backed up but still put a new roof on within 45 days. Very professional and cleaned up every bit of mess. In and out within 7 hours. Never seen anyone work like a well-oiled machine. Give the 110%.
The Best by far
Randy Culver
Dedicated, Well Organized Professionals
Have used J&J twice with outstanding results. Fast, efficient and thorough work. Total cleanup at completion. Very competitive pricing. No 'phone tag' which is very refreshing in dealing with a tradesman. Have recommended to neighbors also delighted. Will use them and recommend again when roofing needs arise. Thanks for your stunning professionalism.
Dedicated, Well Organized Professionals
C M Wetzel
Great Job
J&J did a great job with shingles on our house and replacing our bad spots and putting in our skylights and cleaning up everything after they were done very satisfied with the work they did, I would recommend them anytime!
Great Job
Monte Underwood